Whether you need complete outsourcing of your accounting department or just need assistance with some part of your accounting, you can benefit from a modern approach that will kick-start your finance department.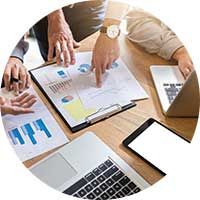 Customize your accounting team
Every company has unique needs, which is why we can customize our dedicated accounting teams to your processes to ensure an accounting department within your reach.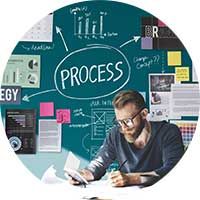 Let us review your processes
Give your internal processes a new flavor. We will review your internal processes and suggest ways to simplify the administrative process for external bookkeeping.
Digital document workflow
We have developed an application that can unburden you from the physical circulation of documents, allowing you to digitize your documents. This will make your invoices, receipts, travel statements and other documents available in a digital archive 24 hours per day 7 days per week.
Outsourcing of accounting activities includes:
Outsourcing of accounting activities includes:
Processing of all accounting operations based on documents approved by the client
Setting up a flexible billing system, linking your accounting with an external billing system
Recording of receivables and payables in a customized age structure
Credit management, automatic generation and sending of reminders
Preparation of payment orders and their import to the bank (based on the choice of the responsible person)
Processing of monthly financial statements
and preparation of monthly reports
Payroll and HR management - from monitoring changes in legislation to HR agenda-related services
Statutory reporting - monitoring of current legislation and preparation of all accounting and tax returns
Representation in the case of tax inspection and communication with public authorities
Business intelligence will tell you where your company stands and how it is doing
Reporting as an integral part of our services will help you discover the information we can process into transparent, visual charts and diagrams. Our reports can integrate data from almost any source so you can get comprehensive statistics for any area of your business.
Let us do your accounting for you
We will create a responsible base
for your accounting and reporting